I have six books out at the moment but hope to add to the total. They fall into three different categories – Fantasy, Science-Fiction and Horror. They also fall into three other categories  – published by a publisher; published by me but previously appeared in a magazine so an editor has paid for them; published by me but nowhere else.
There are two fantasies. One, which is put out by Alban Lake Publishing is The Brigstowe Dragons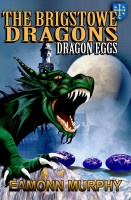 In old Brigstowe, capital of Wessex, King Tobrytan has fallen under the influence of the evil sorcerer Kemshah and no one is safe. Rich and poor alike suffer heavy taxation and anyone who protests is a traitor. The dragons who protect the city are helpless because Kemshah has stolen their eggs and they dare not defy him. Price – $1.99
The other fantasy, self-published but containing stories some editors bought, is this: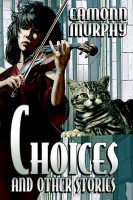 Choices and Other Stories by Eamonn Murphy is a mixed bag of fantasy tales, many with a touch of romance. Inside you will find a builder who meets his match when he picks up a witch in a bar; A girl haunted in the Mountains of Mourne; another who discovers that the villagers in her new home have a strange secret. There's also a wayward sexist who gets his comeuppance, a duck that won't lay eggs, brick eating worms from outer space and an 18th-century love triangle. This is a light-hearted collection for the gentle reader.
The Union Man and Other Stories was issued in January 2018 by Nomadic Delirium Press and features three stories, though one is only 1000 words.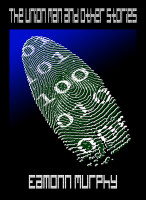 The Union Man and Other Stories brings you three stories from Eamonn Murphy.
An interrogator (torturer) for MI5 is accused of a murder, a murder he couldn't have committed, but where his investigation takes him will not only change his life, but it will forever change the world.
Happy is a drug that has been legalized in England, but no one can expect the consequences of what that legalization will mean, except for one man, and no one want to listen to him, because everyone wants to be Happy.
Finally, a brief story that is a twist on the princess and the frog tale.
This next Science-Fiction book is self-published but the stories previously appeared in Perihelion SF and were vetted approved and paid for by editor Sam Bellotto, Jr. so I can only assume they are quite good. The book is Consarn Christmas and Other Stories.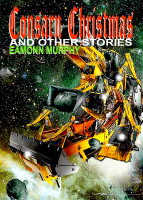 Consarn Christmas and Other Stories contains eight science-fiction stories by Eamonn Murphy which were originally published in Perihelion SF magazine and one extra. They feature time travel, robots, a Dystopian future and an alien invasion. This is over thirty thousand words of fun, readable SF in the tradition of the Golden Age – Price $1.00
The third book is horror stories I could not sell, though I like them. I have sold forty stories for money so I don't think I'm a terrible writer, I think the market for horror is now very dark and, like my SF, my horror is rather old-fashioned. I put these stories together in a book entitled Five Little Horrors.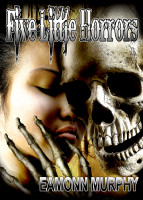 Macabre fiction in the short form here. These five little horrors include voodoo cake decoration, a dentist, alien vampires, human sacrifice and a fly, or is it the Lord of the Flies? Best read in broad daylight. Price – Free!
The last of my self-published books is Arnos Hell which is about a haunted call centre.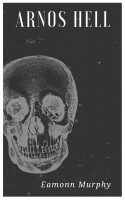 Bob Harding is a health advisor at an NHS helpline in a call centre built on a graveyard. One Halloween night, a disgruntled spectre locks the staff in and announces he's going to kill them all. To save himself, his colleagues and his girlfriend Bob must overcome his greatest fear. A spooky supernatural tale laced with humour, Arnos Hell is 'One of the finest novels I have read in a long time' said reviewer Bryan Cox.
I have also published short stories in several magazines, an ongoing venture. See the Short Stories page for the latest.