I don't know why The Fifth Dimension doesn't give it's full name or why it's been shortened. Perhaps the cover isn't big enough for it.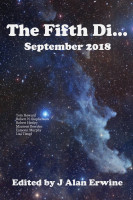 In any case, the latest issue is out now for just $1.99 as an e-book featuring my story Custer's Paradox. It's a comedy I wrote years ago about a son left out of his rich father's will who goes back in time to put things right. 
Here's the blurb from editor J. Allen Erwine
The September issue of The Fifth Di… takes you to a myriad of worlds that you could never imagine. Go to a world where humans are struggling against the native plant life, and see just how far the children of the colonists will go to protect that plant life. Visit an interplanetary vessel like you've never seen before…even the inhabitants of the ship are surprised by what they find. In another world, a man dies…again, and again, and again. On Earth, a woman is visited by a being from another dimension, and he has something that might be amazing to offer to her. Also on Earth, a man struggles with not inheriting his father's future. Just how far will he go (in time) to try to get what he feels is his? And finally, visit another reality where the heroes you are familiar with have very different lives…
The Fifth Di.. is a decent little magazine and worth a look.